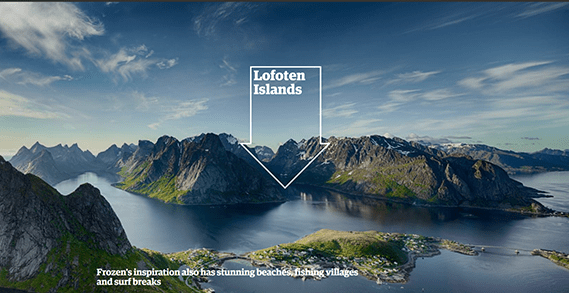 Fra The Guardians fåreslåtte reisemål for 2017
Norway
---
In 2013, the phenomenal
success of Frozen created a boom in visitors to the remote Norwegian archipelago, with people eager to see the landscapes that inspired the Disney cartoon. Now there is more movie excitement as the Lofoten Islands get ready to star in Downsizing, a sci-fi comedy starring Matt Damon and Kristen Wiig that will hit cinema screens next winter. The Arctic islands boast stunning untouched beaches, pretty fishing villages and some of the world's most northerly surf breaks. The film's director and co-writer, Alexander Payne (who was behind indie classic Sideways), was no doubt attracted by the island's unique light: head there in the summer for the midnight sun or in winter for the northern lights. The Lofoten Islands are a place of exceptional natural beauty at any time of year.
---
Siste

fra NRK Nordland
Innstiller alle skolebusser

Alle skolebusser i Gildeskål i Nordland er innstilt på grunn av uvær, opplyser kommunen. Det bes om at foresatte holder elever som reiser med buss hjemme i dag.
SISTE

NYTT
#Norway #visitnorway #Lofoten #visitlofoten #work #boat #Seagull #herringgull #seaeaglesafari #whitetailedeagle #hurtigruten #svolvær #trollfjord ...

... og finner inspirasjon i nordnorsk natur, sier vokalist Sondre Pettersen fra Tromsø, som har besteforeldre fra Storemolla i Lofoten og slekt i Svolvær.